Daylong Mindfulness Meditation Retreat
Learn and deepen a variety of mindfulness and meditation techniques for reducing stress, being more deeply present and cultivating greater peace of mind.
This retreat will be held in a beautiful green valley in Cercedilla and taught by two experienced teachers – Darran Kilbride and Isabel Ward.
The retreat will be taught in Spanish.
Benefits of mindfulness meditation
o Reduced Stress
o Greater peace of mind and well-being
o Improved ability to concentrate
o Better sleep
o Reduced anxiety
o Understanding ourselves more deeply
o Improvements in relationships (when we have less stress and are more present, that affects how we interact with others)
The best way to experience these benefits is to have a daily meditation practice and to periodically spend time on meditation retreats.
By setting aside an extended period of time in supportive conditions (beautiful nature, meditation teacher, other people practicing alongside you, less distractions and responsibilities), a retreat allows you to deepen your practice and to more fully experience the benefits of meditation and mindfulness.
If you would like to deepen (or re-start) your meditation practice, then this retreat is a great way to do that.
What participants at one of our past daylong meditation retreats said
(This was in the same location as the upcoming daylong retreat will be)
"Great experience. The place was also amazing. ¡¡Thank you!!"
– Ana
"I really liked it. The environment and the kindness with which everything was done."
– Julia
"Thanks so much to everyone who made it happen. Looking forward to future sessions."
– Patti
Some more information about the retreat
The center is in a beautiful green valley in Cercedilla. It has a meditation hall and lots of outdoor space with views of the Siete Picos.
Meditations will be 30 to 40 minutes in length. We will start with guided meditations and gradually have less guidance over the day.
The day will be mostly in silence and will include several different mindfulness meditation practices: sitting meditation, walking meditation, lying down body scan, gentle mindful movement and time out in nature.
The teachings will include information from modern mindfulness courses and also from the Buddhist meditation tradition, the tradition that mindfulness comes from.  The intention of the guidance and teachings is that they give us practical tools to develop greater mindfulness and concentration and to help us live our lives with greater peace of mind and well-being and with less stress.
The teachings and guidance will be in Spanish.
This is a photo of the center –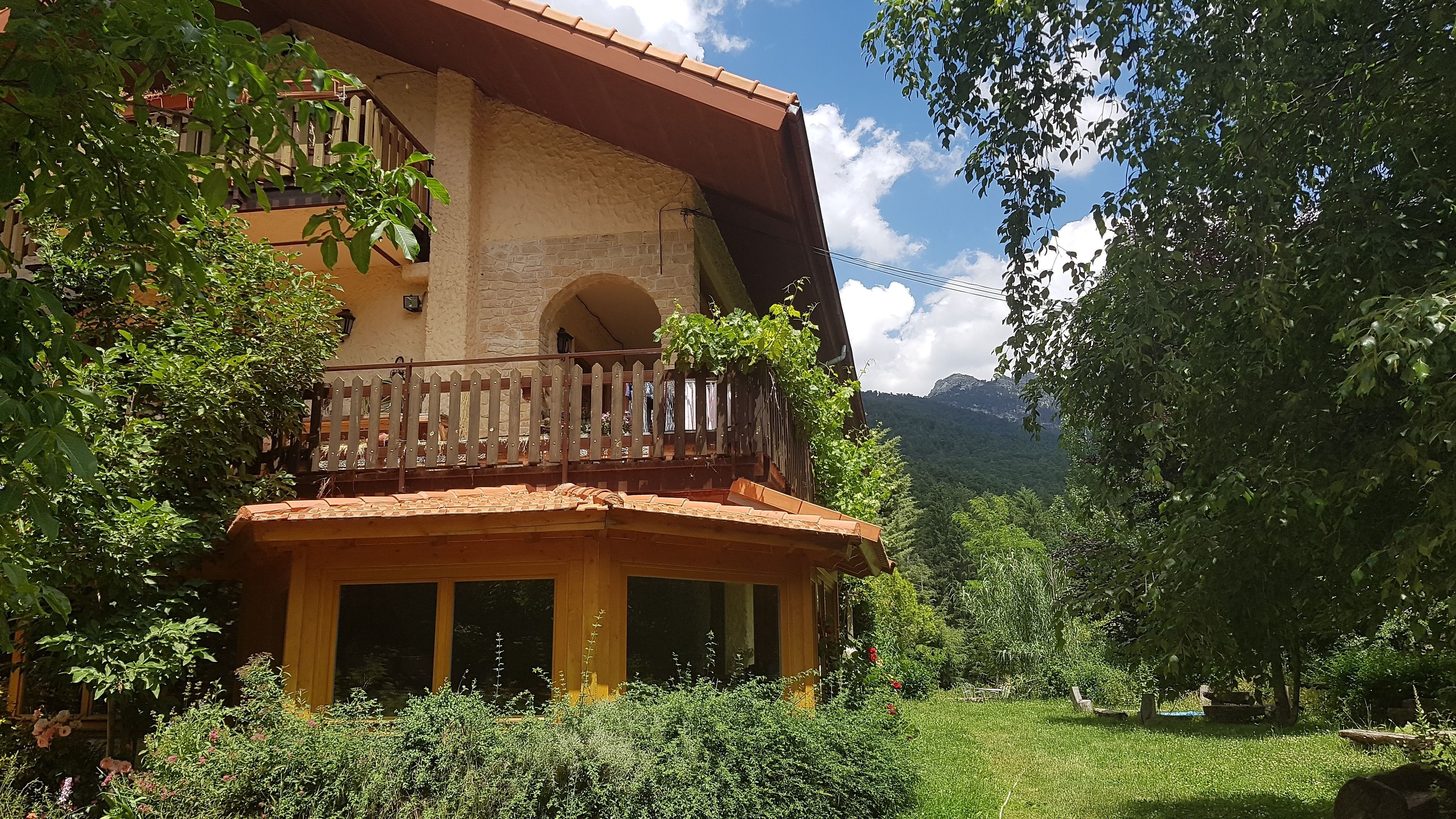 Teaching Team
Darran Kilbride
Darran has trained in world recognized meditation centers in the United States and Asia and has trained as a mindfulness teacher with the University of Massachusetts.
Much of his training has been with teachers of Jon Kabat-Zinn (the person who first introduced mindfulness into mainstream Western settings, often called "the father of mindfulness in the West"). Darran teaches Mindfulness at IE University and teaches on the Mindfulness teacher training program of Universidad Rey Juan Carlos.
Isabel Ward 
Isabel has been practicing yoga and meditation for the past 17 years – since 2001.    She was authorized as a yoga and meditation teacher in 2008 and created Yoga Anandamaya, a meditation and yoga center in Madrid.
She has practiced in the Satyananda yoga tradition and in the Theravada Buddhist meditation tradition (the tradition that mindfulness comes from).
Who the retreat is suitable for
This will be ideal for people who have some meditation experience.  If you've done meditations of 30 minutes or more before, then this retreat is suitable for you.
It's suitable both for people who have not done a daylong meditation retreat before and for people who done retreats in the past.
Getting There
If you're coming by public transport, you get the train to Cercedilla.  The center is less than 4km from the station.  From the station we get taxis to the center – we'll try to organize it so that there are 3 or 4 people in each taxi, so it will be just a few euros per person.
If you're driving and would be willing to give other people a lift, please let us know.

What to Bring
Please bring comfortable clothes and a packed lunch.
Tea, coffee, biscuits and fruit will be provided, as will all the materials (meditation cushions, chairs, etc).
Sign up
Registration for this event will open in March 2019.  To be notified when the dates are announced, sign up for our newsletter, using the blue box on this page.